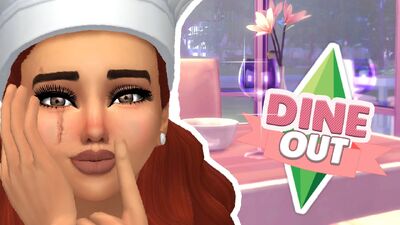 The Sims 4 Dine Out is a mini Let's Play by Lifesimmer. The LP is intended to show off such features as the new ability to both dine in and own restaurants, new furniture and decor, and CAS items.
Due to longterm inactivity, this LP is considered cancelled by Lifesimmer Wiki standards.
The LP centres around Bambi Juniper, an aspiring entrepreneur with hopes of owning a successful restaurant. Lifesimmer purchases a lot in Oasis Springs, and builds a cheap studio apartment for Bambi. A second lot is purchased for the restaurant, which Lifesimmer builds and names Bambi's Grotto. Lifesimmer sets up the basics such as the menu and employees. Bambi spent the rest of the restaurant's opening day welcoming potential customers, getting to know her employees and overall immersing herself into the business; sometimes having to smooth over any issues, such as reprimanding and purchasing training for employees, all of which results in good customer reviews. The part closes on a successful first day. 
Ad blocker interference detected!
Wikia is a free-to-use site that makes money from advertising. We have a modified experience for viewers using ad blockers

Wikia is not accessible if you've made further modifications. Remove the custom ad blocker rule(s) and the page will load as expected.