The Sims 3 Generations LP
(Season 3)
Theme
Generations, Family Life
Episodes
Total Episodes
6
First Episode
January 6, 2016
Last Episode
April 15, 2016
Let's Play The Sims 3: Generations (Season 3) is the third season of Lifesimmer's Generations LP. It was confirmed on November 22, 2014. On December 2, 2014 it was hinted that Season 3 may be the first in the series not take place in Lucky Palms.
Due to long-term inactivity, this LP is considered cancelled by Lifesimmer Wiki standards.
Pre-series
On July 9, 2015, Lifesimmer posted a poll via twitter for which town Season 3 should take place in, the choices being Lucky Palms, Bridgeport or a Custom Content world. On October 27, 2015 the first Season 3 trailer was released which featured Aiden Santiago and Lindy Santiago. The trailer also revealed that Season 3 will be played in a custom content world, Maple Cove (Evansdale County).
On November 6, 2015 an update video revealed Season 3 would begin within the following two weeks. However she later tweeted the release date would be further.
Synopsis
The season premiere was uploaded January 6, 2016. The active household consisted of Penelope, Zane, Isaac, Lindy, Aiden and Tanner. Kendra appears as part of an inactive household with Jamie and Andrea, as do Jai and Luna, alongside Tori, Karie, Snuggles and Ava.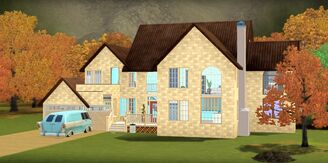 For this series, Lifesimmer brings back the original Fenderson house from Season 1 and complitely redecorates it's interior. In the first episode, Lifesimmer goes through house and shows new rooms and all the changes she has made. She also shows some old family pictures, such as Jai and Tori's picture, then the old videotapes such as barbecue party that was held in Season 1 finale, Justine's death and many others. Afterwards, she invites over all the family members. Everyone arrives except for Luna and Jai.
Episodes
EPISODE
TITLE
UPLOAD DATE
1
Nostalgic Feelz
January 6, 2016
2
Deformed Cat + Makeout
January 25, 2016
3
Trying for Kittens
February 13, 2016
4
Granddaughter
February 26, 2016
5
Cat Labor
March 20, 2016
6
DAYCARE QUEEN
April 15, 2016
Trivia
It was winter in the game when the previous season took off, but it appears to be autumn at the start of this season.
In the final episode of Season 2, Lifesimmer hinted that she might play with the Dunbar family, which did not happen.