The "New Kids on the Block" is the name given to the two groups of teens that Lifesimmer added to the town in The Sims 3 Generations LP. They were created in order to populate teen parties, serve as prom dates and to ultimately add drama to the lives of the Fenderson kids.
The original group was made to influence Luna's life. They were intended by Lifesimmer to be the teenage stereotypes you're bound to meet in high school:
Dedrick Hudson was the Heart-Throb. He was Luna's crush throughout high school and her early Young Adult years.
Tori Dunbar was the Regina George. She was popular among classmates -particularly boys - and deeply despised by Luna.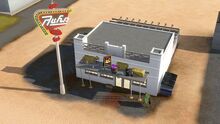 Janice West was the Badarse.
Braden Ramey was the Jock.
Duncan Cutler was the Snob.
This particular group attended Luna's teen party in Part 20: Teenage Party & Puppy. Their secret hangout was The Sandy Place on the outskirts of Lucky Palms; Luna discovers it in Part 35: Prom Duo, while the entire group is gathering there.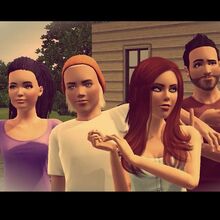 The second group was created to impact Penelope and Jai. They were more story-based than the original group:
Julian Santiago was a single Father, having been abandoned by his unknown wife.
Zane Santiago was Julian's rebellious son. He was in an unofficial relationship with Bianca.
Bianca Baez was the "Tori Dunbar" of the younger generation. She was in an unofficial relationship with Zane. She was also a Friend of Mindi O'Hara.
Mindi O'Hara was an artsy, Avant Garde type of Sim whom also had a crush on Zane, despite her friendship with Bianca.
This group attends Penelope and Jai's teen party in Part 34: New Kids on the Block.
Ad blocker interference detected!
Wikia is a free-to-use site that makes money from advertising. We have a modified experience for viewers using ad blockers

Wikia is not accessible if you've made further modifications. Remove the custom ad blocker rule(s) and the page will load as expected.