That Girl Who Talks Shit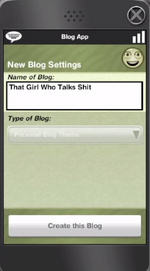 Blog by Aria Manson
That Girl Who Talks Shit is the name of Aria's blog in The Sims 3 Late Night LP.
Description
Edit
When Aria aged up into Young Adult, Lifesimmer chose her lifetime wish to be Blog Artist. Aria started a blog and named it That Girl Who Talks Shit. The main focus of the blog was supposed to be all about celebrity gossip throughout Bridgeport, but Aria mostly only posted about Dedrick and his scandalous love life, probably because they were housemates and therefore Aria could be around him more often to find juicy material for her posts.
If The Rumors Are True, I'm Pretty Sure Dedrick Is A Player, that's right he knocks up everyone
Sun Young NEVER. I heard she is never going home, is this legal??
I went out for lunch, and saw SUN YOUNG KIM TOTALLY DRY HUMPING DEDRICK. #WOOHOOTY
Wanna Play A Game?
Ad blocker interference detected!
Wikia is a free-to-use site that makes money from advertising. We have a modified experience for viewers using ad blockers

Wikia is not accessible if you've made further modifications. Remove the custom ad blocker rule(s) and the page will load as expected.