Richie Abel

Name
Richie Abel
Gender
Male
Age
Elder
Age (Start)
Young Adult
Life state
Human
Personality
Traits

 Flirty

 Inappropriate

 Party Animal

 Schmoozer

 Star Quality
Zodiac sign
 Cancer
Lifetime wish

| | |
| --- | --- |
| | Distinguished Director |
Favorites

 Pop
 Peanut Butter and Jelly

 Yellow
Appearance
Hair color
 Blonde
Eye color
 Grey
Skin color
 Light
Body shape
 Thin
Richie Abel
is one of four
unique Sims
in
The Sims 3 Late Night LP
.
Biography                                    

Edit
Richie was the stud of the group. Despite the fact that he was only her acquaintance, when he attempted to make out with roommate
Celina Thorpe
in the hot tub, she accepted. They were Romantic Interests as of Part 1. In Part 20 of Late Night, Richie impregnated Celina with his child on Love Day. In Part 23, Richie's daughter Morgan Abel was born. In Part 25, he and Celina got married at Beryl Lane Picnic Spot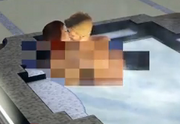 Richie was employed in the movie career as LifeSimmer set his Lifetime Wish to Distinguished Director. He has become a pretty big celebrity since he started hanging around 5-star celebrity Matthew Hamming. Richie continued to live in the household, until Lifesimmer went off camera and moved Richie, Celina, and Morgan out in between parts 29 and 30. She moved him out because he was sleeping in Aria Mansons bed and following her. Once he tryed to flirt and woohoo with Aria at that time a Teenager. This info was never realeased and taken out by editing because when it was first uploaded it was flagged not many saw the real deal. LifeSimmer created Richie as a young adult. He has short, honey-blonde hair and hazel eyes. He is on the skinnier side and has almost medium muscles and muscle visibility. He has a beard the same color as his hair and darker eyebrows. His shirt and shoes are from Latenight. His hair and pants are from Showtime EP and Diesel SP .