Jose Dougherty

Name
Jose Dougherty
Gender
Male
Age
Elder
Age (Start)
Young Adult
Life state
Ghost
Education and Employment
Career

10
Appearance
Hair color
 Brown
Eye color
 Brown
Skin color
 Light
Body shape
 Thin
Jose Monette (Dougherty) is the husband of Candice Monette in The Sims 4 LP.
Jose met Candice Monette in Part 9 and tried for a baby with her in Part 11, before their wedding. In Part 13, Candice gave birth to her and Jose's baby, Drake Monette. A few parts later, they tried for their second baby and succeeded. After a few parts they had their second born Josh Monette, their last boy. After about 5 parts they tried for their third but last child and they had Megan Monette. Jose moved up the Astronaut ladder with ease. Soon he became a grandfather to Drake and Nadine's children, Taylor, Ethan and Alicia(who LifeSimmer decided to adopt because she wanted to fulfill Nadine's lifetime wish of having three children).Josh and Loco's children, Brody and Meagan (Not Candice's Daughter Megan). And Megan's sons Ryder and Tyler that she had with Hank Rotella.
He sadly died in part 51 alongside his wife. Lifesimmer says that he lived a great life and will be missed. In part 61, he joined the household again as a ghost.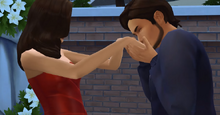 Ad blocker interference detected!
Wikia is a free-to-use site that makes money from advertising. We have a modified experience for viewers using ad blockers

Wikia is not accessible if you've made further modifications. Remove the custom ad blocker rule(s) and the page will load as expected.