Angela Plesant
Name
Angela Plesant
Gender
Female
Age
16
Life state
Human
Family
Parents
Daniel Pleasant, Mary-Sue Pleasant
Appearance
Skin color
Light
Personality
Other information
Appears
The Sims 3 Generations LP
Neighborhood
Lucky Palms
Angela Pleasant is one of residents in Lucky Palms created by Lifesimmer in Generations LP. She was also a pre-made Sims 2 sim in her All in One series.
Biography
Edit
The Sims 2 LP (Season One)
Edit
Angela is one of Sims from The Sims 2. She was recreated by Lifesimmer for her Generations LP.
Angela has a loving, nurturing appearance and personality. She is friends with the Fendersons and she attended their Gift Giving Party.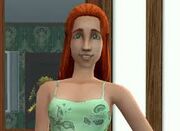 The Sims 2 LP (Season 2)
Edit
LifeSimmer mentions her and spots her at one of the locations in Pleasantview.